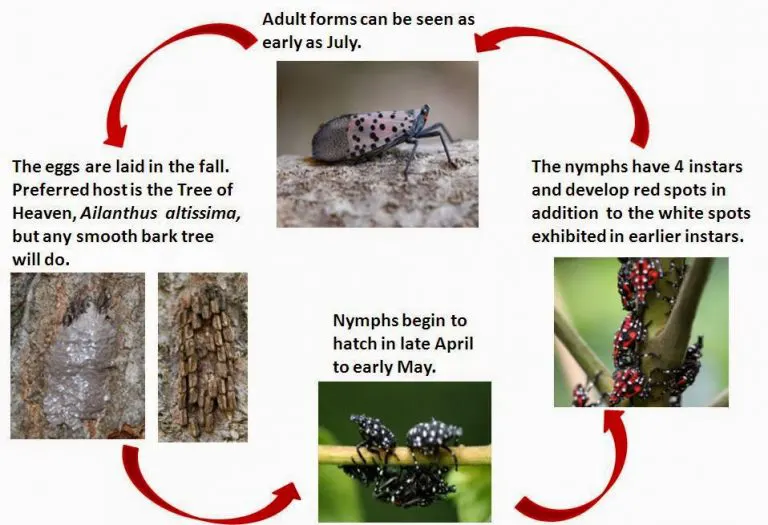 As I am sure you all know by now the Spotted Lanternfly (SLF) has become a serious infestation in our area. We are coming up with a modified tree and shrub program for next season to address this most serious issue. Our current customers who do receive tree and shrub applications, there will have to be an evaluation and adjustment for this service if you wanted the SLF controlled (*cost of root zone injection is determined by the DBH of the plant material to be injected and the amount of product needed). The SLF do attack trees and shrubs that we normally do not treat. The spring root zone insecticide injection would be done Feb-June for those landscape plants that require this application. The regular insect sprays through the season will control the nymphs as well as the adults on other varieties of plant material. There has been an additional fall insect control added to our tree and shrub program. This application has been added to our current T&S full insect control program for those customers who obviously want additional protection for not only the SLF, but for late season spider mites as well. As Penn State and the Department of Agriculture learn more I will be updating the 'Tips Page' with the information. As of right now these are some of the varieties of plants I have observed and that are documented that the SLF do attack and should have the root zone insect injection done:
Maples – Styrax – Magnolias – Tulip Poplars – Sycamore – Roses – Cherries – Kousa Dogwood – Plums – Lindens – Birch – Amelanchier – Willow – Pine – Beech – Service Berry – Black Walnut – Tree of Heaven… and the list gets bigger and bigger every day!Weed or wild Mulberry trees should be removed as well as the Tree of Heaven that may be present.
Many of the products we already use do control the lantern fly. Controlling the egg casings is another story. The only control, at this time, is manual removal of the eggs and these eggs can be very high up on the underside of the branches. Dormant oil has been found to be ineffective for control of the egg casings.
I have observed that the lantern fly really loves congregating on maple trees in the late summer – fall to breed and lay their eggs on the branches. In high numbers their 'honey dew' draws a lot of bees and wasps so be careful around these areas. I have noticed many black faced hornets which can be very aggressive. Again, this is a very new pest to the area and we are doing everything possible to learn what we can for the proper control. For now, if you see one, step on it, swat it, smash it…. Manual control of even one female can greatly reduce the effects into next season.
Spotted Lanternfly Alert and information about your tree & shrub program
The spotted Lanternfly (SLF) is now a very serious problem. It is highly recommended that applications for the landscape and root zone injections for certain trees be done to control this destructive invader from the Far East. The SLF does attack trees & shrubs that we typically do not treat on a regular basis. (Maple trees being a prime example).
We would like to do our part in helping to contain/control this pest and help to prevent its spreading.
We have had to add an additional application to the tree and shrub program to better control the SLF and to better control spider mites as well (from 3 to 4 insect sprays). This will be reflected on your pre-pay letters that this letter was included with.
For our current tree & shrub customers, for proper control, we will need to come out to your property and do a re-evaluation to adjust for the plant material which will need to be included for proper control of the SLF and to get accurate pricing for the root zone insecticide injection that will be needed for specific landscape plants. The cost for the injections is based on the DBH (trunk diameter) and the amount of product needed. The injection is done once in the early spring per season and the regular insect sprays would be done through the course of the season for the SLF and other landscape pests. We will certainly keep any cost increases to your tree & shrub program to a minimum.
For customers that do not have a tree and shrub program, please give the office a call so our tree and shrub specialist can visit your property and give you pricing for these treatments. It is extremely important that as many residents in this area do what they can for control of the Spotted Lanternfly before it is too late. I anticipate this season to be even worse than the last season's infestation due to the fact there is no control for the egg casings at this time except for manual removal. This makes controlling the nymphs and the adults even more imperative and the only way to do this is with the root zone insecticide injections and spray applications.
It really is up to us to take action and do everything we can to control the Spotted Lanternfly in our area so please give us a call at 610-965-4452 and we can set up an appointment to stop out for the evaluation and pricing.
Here are some helpful links to information about the spotted lanternfly:
www.berkshortclub.org/spotted-lanternfly.htm
http://www.agriculture.pa.gov/protect/plantindustry/spotted_lanternfly/Pages/default.aspx
Did you know that companies within the quarantine area are suppose to pass a spotted lanternfly permit exam and then train their employees for the proper procedures and control of the SLF? Here is the link to get your SLF permit training.